From: marjorie luesebrink
To: sanford@aix.pacwan.net
Subject: Out of Egypt

Dear Christy--

So good to be in touch with you again!! Egypt was--as Naguib Mahfouz would have said, the beginning and the end--the past and the future at the same time. We traveled for three weeks--by air, horse-drawn shay, ship, felucca, foot, mini-van, donkey, taxi, launch, bus, and, of course, camel.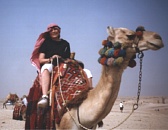 Every day, river and cities, cameos of culture. Your questions are a good place to start....

Continue ->