>Were the sunsets dramatic?
Sunsets over the pyramids and sunrises over the temples.
One day we sat on the terrace of the Old Cataract Hotel in Aswan and watched the sun set over the palms and flame trees of Elephantine Island, feluccas sailing on the Nile.
Another day we hiked around the temple at Kalabsha, sun going down in the Western Desert, land of the Dead, the silence a presence like a god.
Almost every morning I got up early to see the dawn in the Eastern Desert, ancient Kephri, the beetle, rolling the sun into existence.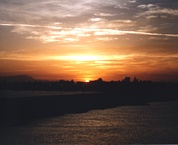 Watched the sun rise over the pylons at Kom Ombo; in the shadow of the temple wall, a vendor was sleeping, wrapped in a reed mat, waiting for us to arrive....
Continue ->