>Was the boat air conditioned?
Yes, air conditioned, and both boats had lovely deck pools where you could sit in the late, hot sun and watch the Nile flow past: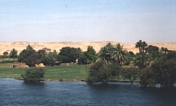 From Aswan to Luxor,the endless green fringe of fields with water buffalo resting in their little reed and straw shelters; children shouting and jumping into the canals; the hamlets and nomes with minarets; the sound of prayers drifting over the blue, blue water, allah akbar, allahakBAR. On Lake Nasser, 300 miles of green water and, always, beyond,the eternal desert.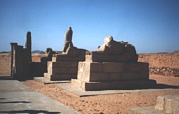 Continue ->