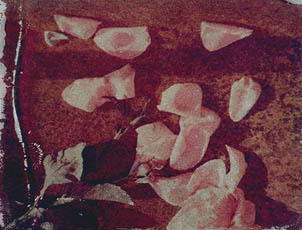 In the grainy light of evening, the East Village becomes a neighborhood like any other. People come home from work, walk to a grocery store or a Chinese take-out. The same whores lean on the same streetcorner walls. The same bum accosts leashed dogs, dropping on all fours to ask them, "What the fuck are you looking at?"
It had only taken me a couple weeks to absorb these rhythms, to become one of their many subtexts. But then I'd had a lot of time on my hands, because the job I'd moved to the city for never existed.
I'd applied for a position as assistant to a booking agent specializing in alternative bands. I'd gotten him some clients back in Texas, and he'd arranged a dozen gigs for my friend Todd's band.
I flew up for an interview in an expensive Italian restaurant with burgundy velvet booths. He asked me to start next Monday. I was already in town indefinitely -- a friend of mine traveling overseas for the summer had left me his apartment on 11th St. I told my employer I'd see him at 9 a.m. sharp. I had made it in New York.